—  10 min read
Contractor's Guide to Jobsite Inspections
Last Updated Nov 15, 2023
As a contractor, performing jobsite inspections is an important part of your role. Conducting regular inspections allows you to identify deficiencies and potential safety hazards. Some inspections might also be required by municipalities or the Occupational Safety and Health Administration (OSHA).
Regardless of the size of your project, you should make jobsite inspections a priority. In this guide, we'll explain the importance of construction jobsite inspections, including what types of inspections are the most common and how construction management software can streamline the inspection process.
The importance of jobsite inspections
Jobsite inspections are an essential activity on construction projects to ensure quality control, worker safety, and productivity. Inspections allow you to document the conditions of the project you're working on and find deficiencies. Jobsite inspections can also be used for the following purposes:
Preventing safety violations

Documenting quality or workmanship issues

Improving worker productivity

Aiding with insurance claims
Inspections should be completed by contractors or other project stakeholders overseeing various tasks. Government agencies, including cities, municipalities, OSHA, and hired third-party safety organizations can also perform their own jobsite inspections.
The cadence of jobsite inspections will depend on various factors, including the size of the project and the type of inspection. However, it's important to conduct regular jobsite inspections throughout the course of the project, especially if deficiencies are found.
Types of inspections
There are many different types of construction site inspections. Some inspections happen more regularly than others. Additionally, some inspections are used for internal purposes, whereas some are required by government agencies, like OSHA. Here are a few of the most common types of inspections you might perform on the jobsite.
Daily inspections
A daily inspection is a general walkthrough of the jobsite and it's used to collect data on the day-to-day operations of the project. These inspections are mainly used for internal purposes, and can be useful for a variety of reasons, such as:
Identifying potential quality issues

Mitigating schedule delays

Preventing accidents and injuries

Improving productivity

Finding safety hazards
Items to record on a daily inspection checklist include:
People on site (Contractors, material deliveries, etc.)

Work completed that day

Status updates on work in progress
The daily inspection should also document what other inspections took place and who performed the inspection. For example, if the city inspector came to perform their own inspection, that should be noted in the daily log.
As much as possible, a daily log should also include visual documentation. Photos of work progress or images of safety hazards can provide clarity for project owners and managers who need to act on the information provided.
The daily inspection is one of the most important jobsite inspections, even for the smallest projects.
On every construction site, there should be a designated person — often a supervisor or safety manager — who is responsible for conducting the daily inspection and keeping a log that can be accessed by project stakeholders as needed.
In the past, a contractor would walk the site with a clipboard and record daily observations on a sheet of paper, which they would collect in a binder or send back to the office. Performing inspections with pen and paper is a tedious process that is prone to error, and creates duplicate work.
Contractors are increasingly using daily inspection software to record logs that are instantly accessible by other project stakeholders. The use of software improves the quality and accuracy of data – and when analyzed over time, inspection data can actually be used to predict future quality or safety issues, and mitigate common risks.
Stay Ahead & Leave Risk Behind
Manage, baseline, and improve your quality and safety program from your desktop and mobile devices.
Quality control (QC) inspection
Managing quality control throughout the lifespan of a project is extremely important. Failure to identify and correct quality issues in a timely fashion results in expensive rework and costly schedule delays. Quality control (QC) inspections are an essential step in delivering a project on time and within the budget.
QC inspections may be performed by a quality control manager, superintendent, or site manager. During a QC inspection, the inspector should look for quality-related issues, including workmanship, materials, and equipment installed. Inspectors should also make sure that processes are being followed correctly.
Unlike other types of inspections, QC inspections are scope-specific. So, for example, if performing a drywall inspection, the inspector would make sure all the necessary prep work, like electrical work and insulation, is ready to go before the drywall goes up.
Based on the scope of work, one QC inspection usually triggers another. For instance, once all the internal QC inspections are completed, you can contact other stakeholders – like the city – to come out and perform any required inspections before the next phase of work begins.
Health and safety inspection
During a health and safety inspection, the inspector looks for potential safety hazards on the jobsite. If the inspector observes anything that could cause potential harm to a worker or another individual on the jobsite, it should be recorded in the inspection log and corrected.
Directors, superintendents, or managers are usually in charge of health and safety inspections. However, OSHA has specific requirements for who can complete these inspections.
General safety inspections may be performed by a competent person, which, according to OSHA definitions, is:
"Someone who is capable of identifying existing and predictable hazards in the surroundings or working conditions which are unsanitary, hazardous, or dangerous to employees, and who has authorization to take prompt corrective measures to eliminate them."
For special inspections, like on cranes and heavy machinery, OSHA sets a higher bar, requiring they be performed by a qualified person:
"Someone who, by possession of a recognized degree, certificate, or professional standing, or who by extensive knowledge, training, and experience, has successfully demonstrated his ability to solve or resolve problems relating to the subject matter, the work, or the project."
As a general rule, a full health and safety inspection should be performed at least weekly on the jobsite by specified personnel, such as the site superintendent. This ensures that all risks are identified promptly and potential hazards are corrected before an event or injury occurs.
Dedicated safety professionals, such as the company's safety director or safety manager, generally perform routine inspections on multiple jobsites. Due to this, site inspections by these safety professionals are performed on a monthly basis. Third-party safety inspectors hired by companies should also perform their own inspections quarterly or at random intervals.
For large-scale projects, companies may have a specified safety person who works solely on that jobsite.
Safety and health hazards aren't simply the purview of a once-a-week inspection. Personnel responsible for daily inspections should also be trained to identify and record potential safety hazards as well. If issues are found, they should notify the person in charge of weekly health and safety inspections.
If an inspector identifies a hazard that presents a danger that could cause "death or serious harm immediately," OSHA requires companies to issue a Notice of Unsafe or Unhealthful Working Conditions within 15 days of the inspection for safety violations and within 30 days for health violations.
OSHA inspections
Depending on the size and scope of your construction project, OSHA might visit the site to perform a comprehensive inspection. For reference, OSHA set a goal of inspecting more than 31,000 jobsites across the U.S. in 2022.
OSHA's inspectors, called Compliance Safety and Health Officers (CSHOs), are responsible for making sure jobsites are compliant with federal safety regulations.
In most cases, OSHA jobsite inspections are conducted at random and without advance notice. However, construction companies can require OSHA Compliance Safety and Health Officers to get an inspection warrant before they come onto the jobsite. Because OSHA inspections aren't predictable, it's important to use your own internal inspections to catch potential issues before bigger problems occur.
In addition, OSHA also conducts inspections in response to complaints or previous violations. For example, an inspector may visit the jobsite in response to:
​​Imminent danger situations

Severe injuries and illnesses

Worker complaints

Referrals of hazards from other agencies, individuals, organizations, or media 

Targeted inspections (specific high-hazard industries, or individual jobsites that have experienced high rates of injuries and illnesses)

Follow-up from a previous violation
Other jobsite inspections
Based on the type of project you're working on, you might need or want to perform other types of jobsite inspections. Here are some additional jobsite inspections contractors may need to prepare for:
Draw inspection
If you're using a construction loan for a commercial or residential project, you might need a draw inspection. For this inspection, the lender hires an inspector to assess the jobsite and make sure the project is on schedule and on budget. Sometimes, the lender will only release funds based on findings from the draw inspection.
Environmental inspection
During an environmental inspection, a third-party inspector verifies that the jobsite is compliant with environmental regulations or permitting requirements, like the EPA Construction General Permit. For example, the inspector might check to see if you have precautions in place to prevent erosion or damage to nearby wildlife habitats.
Insurance inspection
After a claim — depending on the type of policy and claim being made – the insurance company may hire an adjuster or engineer to conduct a jobsite inspection. For example, if the GC holds a builders risk policy, and a covered event damages part of the building under construction, the insurance company may hire a claims adjuster or engineer to evaluate the damage.
During the visit, the inspector might check for other potential hazards that could lead to another insurance loss. The inspector might also verify that you reported accurate information when buying your policy, like the number of workers in your company and the type of work being performed.
Ready to take action?
Manage your quality and safety processes from one centralized location with necessary documentation, materials and records for success.
How software makes jobsite inspections easier
Historically, jobsite inspection data was logged in a notebook or binder, and inspectors used a paper jobsite safety checklist to keep track of their reporting. Even today, there are still construction companies that handwrite their inspections and daily logs. But depending on the size of your company and your budget, construction software can be a good investment.
Quality and safety management software makes it easy for contractors to collect information in a central location for immediate access by any project stakeholder. This makes it easier for staff to document quality and safety issues that are found during inspections.
Software also simplifies the process of notifying stakeholders when a deficiency is found. There's no need to communicate with people in your organization via email or phone, which is time-consuming and inefficient. Not to mention, it eliminates issues related to bad handwriting and lost paperwork.
Additionally, using software allows you to access past inspection data at a moment's notice. You can analyze this data to make improvements for future projects and avoid repeated risks. If your company gets involved in a lawsuit, being able to quickly and easily access past inspection logs is also important.
While using construction management software can greatly improve your inspection process, it's essential to get buy-in from everyone involved. Be prepared to provide regular software training while inspectors get up to speed and make the transition to digital record keeping.
this is part of the series
Construction Safety Basics
Written by
Elizabeth Rivelli
Elizabeth Rivelli is a freelance writer specializing in insurance and finance. Her writing has been featured in dozens of publications, including Investopedia, The Balance, Forbes, Bankrate, NextAdvisor, and Insurance.com. Elizabeth holds a degree in Communication Studies from Northeastern University. She lives in New England.
View profile
Reviewed by
Nathaniel Dobbs
Nathaniel Dobbs is a construction professional with a degree in Construction Engineering & Management. With 8 years of experience in the construction industry, he has held various roles, including Project Engineer, Project Superintendent, and Project Manager working on both commercial and residential projects. He now works as a Solutions Engineer at Procore, where he utilizes his construction expertise to enhance software solutions for project management and quality control.
Win More Work
Get discovered for relevant work on the Procore Construction Network.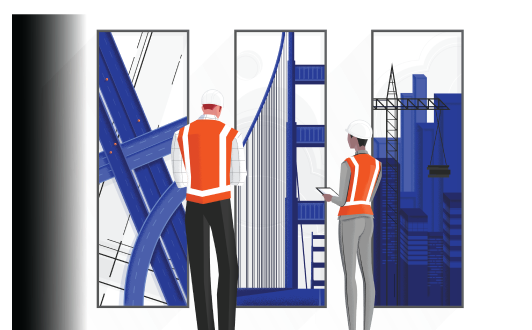 Explore more helpful resources