—  8 min read
Types of Subcontractors in Construction
Last Updated Nov 16, 2023
Construction projects require a variety of companies to work together to bring a contract to completion. Generally, one company manages the project and hires other companies – known as subcontractors – to carry out specialized scopes of work. This scenario also applies to contractor and subcontractor tiers in a contract, with a general contractor running the show, and several types of specialty contractors working on various projects within the main job.
The term "contractor" can describe any party who works on a construction project. But there are actually important differences between different types of contractors. In this article, we take an in-depth look at what separates them. We'll also cover several types of subcontractors, and the tasks they perform, to clear up any misconceptions.
What is a subcontractor?
To the world outside the hammers, nails, excavators, and drawings, "contractor" tends to describe everyone who builds anything. But the term "contractor" applies to anyone hired to perform work or services under a contract.
A company that enters into a contract with a project owner on any type of construction project, whether a residential building, a commercial entity, or a municipality, is known as a prime or general contractor (GC). This is the person or company hired by the project owner to organize and run the project.
A subcontractor, however, describes any contractor hired by a party other than the owner. Subcontractors may be hired by the GC or by another subcontractor. These contractors usually specialize in a specific area of work. They are commonly known as specialty contractors or trade contractors.
Here's an example of the organizational structure between contractors on a construction project:
Owner: The owner hires the GC to oversee and manage the project

General contractor: The GC hires specialty contractors as subcontractors to complete specific tasks on the project.

Subcontractor: A specialty contractor hired to complete a certain task on a construction project, such as electrical wiring, drywall installation, or steel framing.

Sub-subcontractor: On very large or complex projects, a subcontractor may hire a sub-subcontractor to complete an even more specialized part of the contract scope.
Different types of subcontractors
Let's take a look at the different types of subcontractors on a typical project.
Site Preparation
Before a project can start, some GCs will hire a site preparation contractor to prepare the site for building. This type of contractor will bring heavy equipment to the job site, prepare a driveway, remove trees, level the property, and excavate the area for the foundation. On smaller projects, the GC might handle this task themselves, or a concrete specialty contractor might hire their own sub-subcontractor to handle the job.
Concrete
The subcontractor that pours the foundation, footings, or other cementitious structures is the concrete contractor. Generally, this contractor enters into a contract directly with the GC to lay the groundwork for the project. They might also pour the driveway concrete or walkways and patios on finished projects.
Concrete contractors may also work with and install precast concrete materials such as walls, beams, and culverts. Precast concrete is a process in which concrete building components are poured in an offsite location and then delivered to the site to be installed.
Make it easier to manage construction.
Structural and framing
A building's structure and framing could be made from various types of materials including wood, steel, and concrete. Some GCs may handle wood framing themselves, but they may also hire a framing subcontractor to build the structural components for the walls and roofs of the project.
Framing and structural contractors may also install exterior sheathing, windows, and exterior doors. On large projects glass, metal siding, and roofing may be performed by other types of subcontractors.
For large steel structure projects, a steel erection contractor will be necessary, and they'll typically hire a crane company as a sub-subcontractor.
Roofing, siding, and sheet metal work
When it comes to drying-in the building envelope, the process of sufficiently enclosing the building and protecting interiors from external weather conditions, GCs will typically hire subcontractors to do the job.
These roofing, siding, glazing, stucco and sheet metal contractors specialize in this line of work. Many of these contractors work with prefabricated materials they build in their shop prior to installation. By having prefabricated windows, wall panels, and roof sections, they can move quickly to enclose the building so interior build-out can begin.
Plumbing
The primary focus for plumbers is to get water into and out of the building. Plumbing contractors will install the waste lines, vents, and water pipes in a building or renovation. They'll also tie into the city water lines or well water. They may also hire a septic contractor or excavation contractor to install tanks and leach fields, though the GC might hire them themselves. Mechanical contractors will often take on the plumbing scope of a project in addition to HVAC and gas.
HVAC
Heating, ventilation, and air conditioning (HVAC) subcontractors are responsible for ensuring a building's climate is safe and comfortable for occupants. Interior climate control requires very technical knowledge and experience, and it's a job best left to the HVAC contractor.
These contractors will install boilers, furnaces, ductwork, air conditioners, and other mechanical equipment to help keep the building comfortable. HVAC contractors are often referred to as mechanical contractors, and they may also take on other scopes such as plumbing and gas.
Electrical
Electrical contractors are necessary on every job site. This contractor installs electrical panels, wires, fixtures, generators, transfer switches, and other electrical gear for which a GC doesn't carry a license.
For new or highly renovated projects, electrical contractors are also responsible for setting up temporary power to be used during the building process. Electricians interact with every trade on the job and need access to every drawing section including mechanical schedules, architectural elevations, and shop drawings to coordinate equipment feed size and locations.
Carpentry
While the bulk of the structure is typically performed by the framing contractor or GC, much of the interior work goes to the carpentry subcontractor. Carpenters take on various types of interior finishes work from millwork – such as trim, cabinetry, and interior doors – to floors and decorative interior accents.
Carpenters may specialize in different types of interior work based on their size. For example, a subcontractor may only do doors, trim, and cabinetry but not flooring.
Masonry and stonework
The brick and stone surfaces on a project are typically left to contractors who specialize in the trade. Masonry and stonework contractors have the job-specific tools and equipment to work with these tough materials and the knowledge and skill required to lay courses of brick or blocks in straight lines. A masonry contractor may take on small scale or repair concrete work as well.
Stay Ahead & Leave Risk Behind
Manage, baseline, and improve your quality and safety program from your desktop and mobile devices.
Drywall
Drywall contractors specialize in the installation, repair, and finishing of drywall. Most types of construction projects – whether residential or commercial – require interior drywall, so their services are in high demand.
Drywall contractors are responsible for installing the panels of drywall onto the framing of walls and ceilings, using screws and joint tape to secure the panels in place. Sometimes drywall contractors will also perform light gauge interior framing. Depending on a drywaller's capabilities and how the GC contracts the project, these contractors may also apply texture and paint or wallpaper to the drywall.
Painting and paper hanging
When it comes to bringing a space to life with color and patterns, the GC will hire a painting and paper hanging contractor. Painting contractors specialize in painting both the interior and exterior surfaces of all types of projects. They begin their process by preparing surfaces for painting, including masking, sanding, priming, and caulking. Painting contractors have a keen eye for detail and a deep understanding of the various types of paint and coatings, as well as the techniques required to achieve a high-quality, long-lasting finish.
Tile setting
Any of the tile work, whether it be flooring, shower spaces, backsplashes, lobbies, or accent walls, will go to a specialty tile-setting contractor. Like other specialties, this contractor has the job-specific tools to handle the project. They also know which materials work best and how to get their hands on rare or unique tiles. Sometimes tile setters will specialize in laying other types of flooring such as wood or vinyl.
There are many types of subcontractors in construction
There are many different specialties within the industry that are needed to bring a construction project to completion – this article covers just a few of them. Trade coordination is key, and it's crucial for the GC to manage project schedules so trades are not in conflict with one another.
Keeping up with who is working where and when impacts schedule, budget, quality and safety. Having an expert's understanding of how each of these trades operates is critical for a GC to ensure a project is completed on time and on budget.
Written by
Tom Scalisi
57 articles
Tom Scalisi is a writer with over 15 years of experience in the trades. He is passionate about educating contractors and specialty contractors about the best practices in the industry. He has seen first-hand how education, communication, and preparation help construction professionals overcome challenges to build a strong career and thriving business in the industry.
View profile
Brian Davis
Brian Davis is a Senior Product Marketing Manager at Procore with a history of working across multiple industries and businesses of all sizes. His experience is rooted in marketing strategy, SEO, digital marketing, and recruitment. Brian has a MBA focused on Marketing and International Business from Arizona State University, W. P. Carey School of Business.
View profile
Win More Work
Get discovered for relevant work on the Procore Construction Network.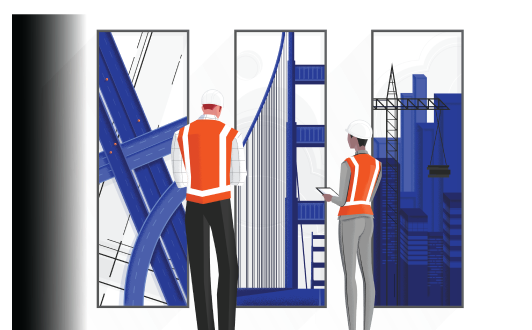 Explore more helpful resources