—  6 min read
9 Types of Construction Companies & What They Do
Last Updated Nov 16, 2023
Whether it's a family home, an apartment building, or a skyscraper, make no mistake: A construction project contains many moving parts. But, unlike the gears, pistons, and hydraulics in the machines that grade the earth or lift the steel, the moving parts in the construction machine are people. Companies full of people, to be exact. And there are essentially 9 types of construction companies.
To ensure that a construction project — regardless of how small — goes off without a hitch, a property owner needs to understand them all.
But without a background in the construction industry, you might not know what or who those companies are, or even what they do. This guide will explain it all, from the types of construction businesses that design the project to the ones that actually build it.
We'll briefly explore each type of construction company, what they do, and how they may relate to each other.
9 types of construction companies
If you're in the beginning stages of a construction project, you might not realize everything and everyone involved in getting the job off the ground. Choosing the right contractors, specialty contractors, and suppliers can be challenging, but it's well worth the time spent.
All of the following types of construction companies have a role to play in completing the project, and they typically work under their own contract or subcontract. The problem arises when the project owner is unaware of the existing contracts or subcontracts, which can lead to payment issues.
1. Real estate developer
When it comes to kicking a project off with the money and vision, it's generally the real estate developer who's responsible. The developer may own the property, but a property owner might also hire a developer for their expertise in overseeing a project.
If the project owner hires a real estate developer, the developer is typically at the helm of the project. They have the task of hiring several other construction companies, including a design firm and general contractor (GC).
2. Architecture/design firm
For all but the most basic construction projects, architecture or design firms will draw up the plans that the other construction companies will follow. They're generally hired by the real estate developer or project owner.
Design firms have another vital role to play, as well. They review pay applications submitted by the other construction companies working on the project. These firms compare the applications to the drawings and specs to approve or deny the app.
Some of these companies operate as design-build firms, meaning they not only create the drawings and plans but also act as the general contractor on the project. In this case, they'll not only review the apps, but they'll also be responsible for hiring specialty contractors and distributing payments.
3. Engineering firm
For complex commercial, public works, or civil projects, engineering firms will work alongside the architecture firm to draw up plans. Their role is to ensure that the designs are safe, up to code, and meet any particular environmental or site considerations.
Make it easier to manage construction.
4. Construction management company
Construction management companies are the boots on the ground, overseeing every aspect of a construction project — including accounting, staffing project managers, hiring specialty contractors, or even hiring several GCs if the project warrants it.
With such an integral role in the hiring process, payments typically flow through the construction manager down to the contractors they hire.
5. General contractor
On smaller projects, owners might not have to look much further than hiring a general contractor. Also sometimes known as the prime contractor (as they hold the prime contract with the owner), they're often the most visible of the companies performing actual construction work. On large projects, you can quickly determine who the GC is by the banner hanging on the fence outside of the job.
General contractors might enter into a contract with the developer, the project owner, or the construction manager. They have the task of hiring specialty contractors, which means they're also responsible for distributing their payment.
6. Specialty contractor
The prime contract is typically broken up into multiple scopes of work for specialty contractors, who work as subcontractors under an agreement with the general contractor. On some projects, especially when the scope of work is limited to a particular trade, owners will hire a specialty contractor directly.
There are several types of specialty contractors on a typical project, including (but not limited to):
Framers

Plumbers

Electricians

HVAC contractors

Roofers

Drywall contractors

Flooring contractors

Restoration/remediation contractors

Demolition contractors

Paving contractors
7. Material supplier
Building material suppliers stock and sell the materials necessary for building the project. Many material suppliers specialize in a particular material or trade. As a result of this specialization, many different suppliers may provide materials to a job, particularly on large commercial projects.
For example, lumberyards stock predominantly wood materials, including plywood, framing lumber, trim, timber, and related materials. Plumbing suppliers typically sell tools, hardware, and materials specifically designed for plumbing and gas contractors. HVAC contractors often purchase from specialized suppliers that stock air conditioning and heating equipment, ducts, tape, and related tools.
Some suppliers -- whether big box retailers or local hardware stores -- stock a wider variety of common materials and tools for any type of work. Because they have a limited selection of items for each trade (and typically, higher prices), specialty contractors tend to rely on them only for relatively small purchases of materials they need in a pinch.
8. Equipment lessor
While many construction companies own their own machinery, many choose to rent the necessary equipment rather than own it. These construction companies, known as equipment lessors, supply the tools and heavy equipment necessary to get the job done.
9. Renovation companies
Usually, projects that involve renovating an existing building don't draw the same types of construction companies as large projects. Smaller companies specializing in renovations tend to handle these jobs.
Usually, the renovation contractor deals directly with the project owner. However, this contractor will often have its own specialty contractors and material suppliers.
Written by
Tom Scalisi
57 articles
Tom Scalisi is a writer with over 15 years of experience in the trades. He is passionate about educating contractors and specialty contractors about the best practices in the industry. He has seen first-hand how education, communication, and preparation help construction professionals overcome challenges to build a strong career and thriving business in the industry.
View profile
Win More Work
Get discovered for relevant work on the Procore Construction Network.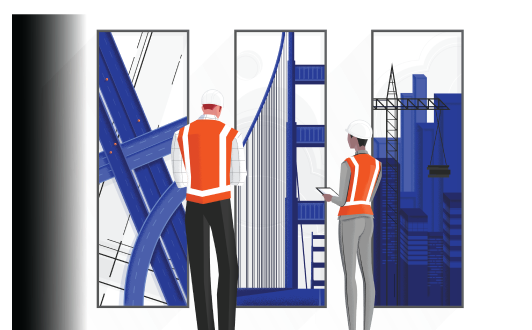 Explore more helpful resources