—  7 min read
The Construction Bidding Process Explained
Last Updated Nov 22, 2023
Mastering the bidding process is essential for general contractors and subcontractors alike. Across the industry, a hit ratio of around 5:1 is considered successful—meaning that for every five jobs you bid, you are awarded the contract for one of them.
Being successful with bidding requires a deep understanding of the process and the strategy that you should take as a contractor. Read on for detailed information about each step of the construction bidding process.
5 steps in construction bidding
The construction bidding process is broken down into five key steps: bid solicitation, bid submission, bid selection, contract formation, and project delivery.
1. Bid solicitation
During the bid solicitation phase, the property owner or their representative will typically issue an Invitation for Bid (IFB), a Request for Quote (RFQ), or a Request for Proposal (RFP).
For public project bids, agencies are generally required to issue an open invitation to qualifying contractors who are registered to work on government construction jobs.
On private projects, bids may be open or sent to a smaller group of contractors in a non-competitive bidding process. In some cases, bids may be solicited through a bid management platform.
Regardless of the project type, the bid package contains project details to enable contractors to produce an accurate bid, including:
Construction specifications

Project requirements

Contract type

Project delivery method

Bonding & insurance requirements
The solicitation will typically also ask for additional information about the contractors who apply, including professional qualifications and examples of similar past projects. Project owners use this information to prequalify the contractors, ensuring that they will be able to complete the job as promised.
Contractors who meet the requirements and are interested in the job will be able to submit a bid.
Contractor Tip: Pay close attention to the project requirements during the bid solicitation phase. Submitting a bid takes time, and one way to improve your hit ratio is to focus on the right jobs for your business—which means skipping some bids entirely.
2. Bid submission
In the bid submission phase, interested contractors submit documentation about the project timeline and costs, as well as information about their business. During this phase, general contractors will often solicit their own bids, proposals, or RFIs from subcontractors they need to hire to complete specialized aspects of the job. The GC will combine the subcontractor proposals to prepare the bid they submit to the property owner.
In order to create an accurate bid, contractors must create an accurate estimate of project costs, including:
Labor

Materials

Equipment

Overhead

Profit margin
By reviewing the project specifications and bill of quantities, performing material takeoffs, and calculating overhead and profit margin, contractors should be able to nail down a competitive bid. A good bid represents the best quality at the most reasonable price.
If required, the contractor will need to submit a bid bond along with the bid in order to be considered for the project. The bid bond serves as a guarantee to the owner that the contractor will be able to complete the project according to their bid.
Contractor Tip: Bids should be as clean and organized as possible. A bid sheet serves as the face of the contractor. A professional bid with all of the correct documentation submitted on time serves as the first indication of a bidder's reputation.
3. Bid selection
When it comes to bid selection, property owners will often pick the bid with the lowest or most competitive price. On public projects, government rules often require that the lowest bid wins.
However, commercial project owners often take into account a variety of factors beyond price, including:
Project experience

Safety record

Scheduling philosophy
Because contractors submit bids in a variety of different formats and with a wide range of prices, the bid solicitor will typically go through a process called bid leveling. During bid leveling, the owner will attempt to standardize the bid formats as much as possible, enabling them to compare the similarities and differences between them. This process enables the owner to compare "apples to apples" to make a more informed decision about the right contractor for the job.
Contractor tip: Winning bids require contractors to submit a price that is high enough to earn a profit but low enough to stay competitive. Losing bids is part of the game; keep track of your unsuccessful bids to learn for the future.
4. Contract formation
After the owner selects a bid, they work together with the contractor to form a construction contract that both parties will eventually sign. While the type of contract (e.g. fixed-price, time and materials, etc.) is generally predetermined by the owner, contractors still have leeway at this point to negotiate the terms of the contract, as well as the final pricing structure.
Even if the project owner is using a standard contract form, like AIA or ConsensusDocs contract documents, the contractor always has an opportunity to negotiate the provisions.
Contractor tip: After your bid is accepted, take time to review the proposed contract and make suggested changes. Don't allow the owner to pressure you into signing a contract that you haven't fully read or agree with.
5. Project delivery
Even though it's not technically part of the bid process, project delivery plays a very important role in bidding.
Before bidding starts, the property owner will determine the project delivery method. Common delivery methods in construction include:
Design-Bid-Build

Design-Build

Construction Manager at Risk

Integrated Project Delivery (IPD)
During bidding, the project delivery method determines how bids are solicited and submitted. For example, Design-Bid-Build solicits bids from general contractors based on designs from a separate firm, whereas Design-Build employs a single firm for design and construction, so bids are only received from subcontractors supporting that firm's work.
After bidding, the project delivery method often influences contract negotiations. For example, with the construction-manager-at-risk (CMAR) method, there is likely a guaranteed maximum price in the contract, which the construction manager will want to carefully negotiate to ensure project profitability.
Contractor tip: Make sure you're clear about the project delivery method and how it affects the bidding process. Contracting businesses tend to specialize in certain project delivery methods while avoiding others.
Types of construction bids
When a property owner is ready to receive bids on a project, they will choose a tendering method. The three most common types of tendering are open tendering, negotiated tendering, and selective tendering.
Open tendering
With open tendering, anyone is allowed to submit a bid on the project. This is the method most commonly used on government projects, and it is generally considered to create the most competition for a job, driving prices down. In fact, many public projects are required to solicit contractors through an open tender.
Negotiated tendering
With negotiated tendering, the property owner identifies a single contractor to perform the work and negotiates a contract with them. This method of tendering is generally reserved for highly specialized projects, and it may be considered anti-competitive in certain cases.
Selective tendering
Selective tendering is the middle ground between open and negotiated tendering: A small set of predetermined contractors is invited to submit bids on a project. Typically, this method of tendering offers a balance between competition and simplicity in the bid selection process.
Serial tendering
Serial tendering is used for situations where a property owner is soliciting bids for a series of similar projects over a period of time. For instance, a housing developer may be building hundreds of residential homes over a three-year period. Serial tendering can reduce the burden of repeatedly soliciting bids for similar projects, though it does potentially reduce competition.
Free e-book
The Keys to Success in Commercial Construction
Learn the financial strategies and business practices that lead to positive cash flow and long-term growth.
Mastering the bidding process takes time
Because contractor cash flow is heavily dependent on skillful bidding, businesses that bid well tend to outlast their competition. Learning to find the correct bids, prepare proper estimates, and submit professional bids takes time, but it's worth the effort. Mastering the bidding process is essential for contractors who want to grow in the commercial or government construction sectors.
Written by
Alex Benarroche
24 articles
Alex Benarroche serves as Associate Counsel for Procore. His legal expertise includes construction, contracts, business, and intellectual property. Alex is bilingual in English and Spanish. He earned a J.D. from Loyola University College of Law and an M.S. in Intellectual Property and Internet Law from the University of Alicante in Spain. Originally from South Florida, Alex has called New Orleans home since 2003.
View profile
Daniel Gray
27 articles
Daniel is an educator and writer with a speciality in construction. He has been writing construction content for Procore since 2022, and previously served as a Procore Content Manager before continuing to pursue an education career as an Assistant Headmaster for Valor Education in Austin. Daniel's experience writing for construction — as well as several clients under an agency — has broadened his knowledge and expertise across multiple subjects.
View profile
Win More Work
Get discovered for relevant work on the Procore Construction Network.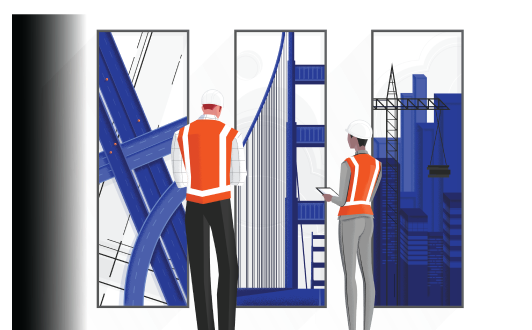 Explore more helpful resources