—  8 min read
Construction Bid Leveling: How It Works
Last Updated Aug 23, 2023
Construction project owners and general contractors use the bidding process to identify the best builders for a project — but actually determining the best bid can be difficult when simply looking at the total cost. That's why most owners and contractors use bid leveling, which is the process of organizing construction bids so they can be easily compared.
After the bid leveling process, owners and contractors can determine which bid offers the best price while fulfilling all of the project requirements. Historically, owners and contractors used pen and paper or simple spreadsheets to make it easier to compare bids, but now many firms use bid management platforms that automate the leveling process.
Paying attention to the bid leveling process is essential for general contractors and owners who want to ensure that they pick cost-effective bids that account for every aspect of the overall scope of work. Specialty contractors must also consider bid leveling, as their bids to general contractors may be ruled out during the leveling process if they haven't included competitive pricing for every item referenced in the bid package.
Below, we'll walk through the basics of bid leveling, the importance of leveling bids, and examples of bid leveling.
What is bid leveling?
When an owner or a general contractor is performing the bid leveling process, their goal is to find the lowest price — but also ensure that price includes everything in the scope of work. In other words, bid leveling helps buyers find the lowest bid that meets all of the requirements laid out in the bid package.
The phrase most people use when they are describing bid leveling is "comparing apples to apples." Ultimately, that means organizing bids in a way that makes comparing them easier. Typically, this entails laying out each bidder in a column and each work item in a row along with its quoted price. By the end of the bid leveling process, it's more straightforward for buyers to compare total costs and itemized costs while ensuring that nothing has been left out from the original bid package.
Why leveling bids is important
Leveling bids is crucial in order to ensure that buyers are able to make accurate comparisons before selecting a bid. Without leveled bids, buyers may be tempted to choose the bid with the lowest cost, not realizing that key items from the scope of work were not included in the bid. As a result, that low-cost bid could end up costing a lot more down the line — in change orders, contract negotiations, schedule delays, and more.
In short, buyers level bids for the following reasons:
Compare bids more accurately: Price is the most important factor in evaluating bids, and leveling bids enables true price comparison by lining up contractor proposals side by side, like for like.

Identify scope gaps in each bid: Once bids are leveled and laid out in a spreadsheet, buyers can easily spot scope gaps, missing items, and anomalous pricing.

Avoid problems down the line: After leveling bids, buyers can choose a complete bid rather than negotiating missing items during contract formation — or worse, costly change orders when construction is already underway.
Ultimately, bid leveling is a form of risk mitigation and financial management that enables buyers to make better decisions that set projects up for success.
Save time during your bidding process.
Easily create, manage, analyze and track bid invitations.
Steps in the bid leveling process
An excellent bid leveling process begins with a clear scope of work, involves a detailed bid leveling sheet, and ends with a comprehensive comparison of the leveled bids.
1. Creating a clear scope of work
The process of bid leveling really begins well before bids are even received — when the owner or general contractor is creating a scope of work from construction drawings and specifications. Without a granular scope of work, it's very difficult to ultimately level bids because there won't be specific items to compare.
For instance, consider a scope of work that simply called for "Wiring for data center." When bids are received, the buyer won't have any easy way of comparing the bids side by side.
On the other hand, a more clear scope of work might include a detailed bill of quantities, a projected schedule, a list of required safety personnel or insurance requirements, an expected number of labor hours, and specific descriptions of each task to be completed.
When a project owner or general contractor issues a request for proposal, the more detailed the scope of work they provide, the easier it will be to level bids.
2. Level bids with software or spreadsheets
Next, buyers level bids by using software that pulls information from each bid into a table with columns for each bidder and rows for each work item. The more granularity that the original scope of work included, the more rows the bid leveling sheet will contain. Each row will contain price information from each of the bidders, which can be compared side by side.
Many construction businesses use bid leveling software that automatically imports information from bids into the bid leveling sheet, improving efficiency through automation. With fewer bids or less complex projects, some construction businesses manually import data into spreadsheets or use pen and paper for comparison.
Regardless of whether a business uses a spreadsheet or specific software, the end result is similar: a side-by-side comparison of each bid with pricing information tied specifically to each item in the scope of work.
3. Compare bids
Finally, the buyer will compare bids by looking at prices for specific items and the cost of the bid as a whole — and ensuring that all project requirements are included.
With all of the bids accessible in a uniform format, it is easy to see price discrepancies, scope variance, and missing items. One bidder may have offered the lowest price but neglected to include a crucial service or material.
By getting that apples-to-apples comparison, a true price can emerge, and buyers can choose the bid with the best value rather than the best price.
In many cases, bid leveling reveals that price is not the only factor that determines which contractor wins a job. Contractors that can demonstrate the overall value of their bid and their ability to adhere to the required specifications often win jobs despite not having the lowest bid.
Example of leveled bids
Imagine a general contractor is looking for a specialty contractor to help with concrete work.
After issuing a request for quote (RFQ) along with the construction documents that outline the scope of work, three concrete contractors submit bids for $300,000, $345,000, and $315,000.
Without bid leveling, the general contractor could be tempted to choose the lowest price. However, by comparing the bids in a leveling sheet, it becomes obvious which contractor will be the best fit for the project.
| | | | |
| --- | --- | --- | --- |
| | Waugh Brothers | Elliott Concrete Co. | Ten One Five, Inc. |
| Concrete (materials and labor) | $250,000 | $275,000 | $225,000 |
| Rebar (materials and labor) | Not included | $25,000 | $35,000 |
| Curb and gutter work | $50,000 | $45,000 | $55,000 |
| Safety requirements | Met | Met | Not met |
| Total Cost | $300,000 | $345,000 | $315,000 |
By excluding the rebar, Waugh Brothers' low bid is going to lead to a conflict at the contract phase or a change order on the job site, and there is no telling how much that rebar will cost at that point.
Meanwhile, Ten One Five Inc.'s inability to meet the safety requirements makes their bid a non-starter.
At the end of the day, the highest bid is the best value — and probably will end up being the lowest cost as well. By avoiding contractors that can't fulfill the scope of this project, the general contractor will be able to save money throughout the project's lifecycle.
Mitigating risk through bid leveling
Ultimately, bid leveling is a process of mitigating the financial risk associated with complex construction projects. However, not every owner or general contractor approaches the bid leveling process with the same level of granularity. Some see it as a rough correction tool, while others are going to take it down to a fine level of detail.
Often that level of scrutiny is determined by the contract delivery method. Public bids, for example, may get much more scrutiny at the bid leveling step in comparison to a negotiated tender or a cost-plus contract between long-time partners.
The phase of the project also comes into play. A general contractor bidding for a design-build job early in the conception phase is going to be using fewer specific details and more round numbers and big picture concepts in their bid, for example, than a specialty contractor bidding on a 90 percent complete set of drawings.
Bidding out jobs is the standard practice to get the best price in the construction industry. But bid leveling is how that practice gets standardized. Because every bid has the potential of being slightly different, owners and general contractors use the bid leveling process to mitigate their risk and ensure the bids include the entire scope of what they hope will be delivered.
Written by
Michael Giusti
Michael Giusti is the Journalism Department Chairman and Director of Student Media at Loyola University New Orleans. He has worked as a journalist and writer for more than two decades, covering industries ranging from construction to insurance, finance, and logistics.
View profile
Adrian Godby
Adrian Godby is a Senior Product Manager at Procore with 10 years of experience working in the construction industry. Previously, Adrian worked as a project engineer at both Skanska and Robbins Reed. He holds both a Bachelor of Architecture (B.Arch.) degree and a B.S. Construction Management degree, focused in Design-Build, from California Polytechnic State University-San Luis Obispo.
View profile
Reviewed by
Dave Stein
Dave Stein is a Senior Product Designer at Procore. Before he got into product design, he worked in real estate administration, serving on the Acquisitions & Development team at both Tishman and Virgin Hotels. He was also a guest lecturer on hotel development at NYU. Dave holds a bachelor's degree in hotel administration with a concentration in real estate development. He lives in Boston.
Win More Work
Get discovered for relevant work on the Procore Construction Network.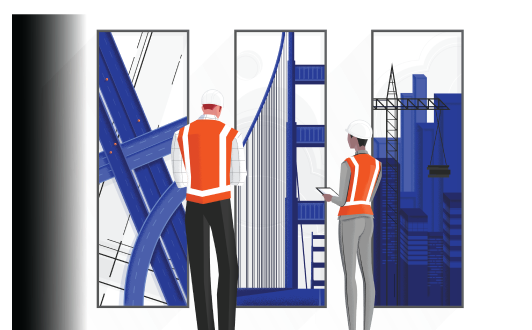 Explore more helpful resources