—  8 min read
6 Tips to Boost Contractor Profit and Reduce Overhead in Construction
Last Updated Aug 23, 2023
The average net profit margin for construction businesses ranges from just 3-7 percent, according to research from IBIS World. In order to make a profit, construction businesses need to account for all their costs — including labor, materials, and overhead. But many construction companies fail to take their overhead costs into account when preparing bids.
If you want to increase your profitability as a construction business, it's essential that you understand how to accurately account for your costs and calculate profit margin. Read on to learn the relationship between overhead and profit — plus six tips for boosting profit while reducing overhead in your construction business.
What is overhead in construction?
Overhead is the cost of running a business. In construction, overhead includes both direct costs, which are tied to specific jobs, and indirect costs, which include operational costs required to run a business.
Some examples of direct costs would include equipment rental or temporary office structures.
Examples of Indirect costs include salaries and benefits for office staff, rent for a building, marketing and advertising costs, legal fees, and more.
Overhead costs represent funds that a construction business needs to operate. For that reason, well-crafted construction bids will not only cover the cost of labor and materials, but also the overhead required for keeping the business going. A strong bid should also include a margin for profit, which will enable a business to reinvest in itself and continue to grow.
What is profit in construction?
Profit is the amount of money left over after subtracting overhead, labor, and materials costs from a contract price.
For example, in a contract worth $20,000 that required $15,000 of labor and materials and $2,500 of overhead, the remaining $2,500 is the profit.
When writing a bid, you'll need to know your costs as well as your intended profit margin to calculate the proposed contract price. Imagine you're taking on a job that will cost you $7,000 in labor, materials, and overhead. If you want a 10 percent profit, you'll need to add $700 to your bid to cover your costs and come out ahead.
Importantly, contractor markup and profit margin are not the same. Every contractor has to include a markup above the cost of labor and materials — but that markup includes both overhead costs and profit. If your markup only includes your profit margin, chances are that you're not factoring in your overhead costs. Every bid you write takes into account everything your business needs to keep running.
You have to know your overhead costs as well as your desired profit margin to mark up correctly. That's how you write winning bids that also keep your business afloat.
Free up cash flow on your next project.
See if your company is eligible for pay-when-paid terms on materials purchases.
How to calculate overhead and profit
To calculate overhead and profit for a construction project, you need to take a close look at the various expenses and costs that go into a job.
First, add up all of your fixed monthly expenses, which could include debt payments, rent, insurance, and more.
Next, consider all of your indirect costs — the ones that keep your business humming but aren't attached to any particular job. Office staff salaries, maintenance costs, legal fees, marketing costs, and more would all apply here.
Finally, calculate all of your direct costs for the job you're considering, which could include rental of specialized equipment or tools as well as hiring project-specific personnel.
Everything that you've just added up is your overhead, and you'll need to cover those costs with your bid. For example, let's say that in one month, you have $4,000 in overhead costs. If you only take on one job that month, you'll need to mark up your bid by at least $4,000 just to cover your costs. If you take on more jobs, you can spread indirect and fixed costs across multiple jobs — but direct costs are tied to a specific job and must be accounted for in your bid.
After you determine the markup you need for overhead, you can further mark up your bid to give yourself a profit. For example, a job that costs $2,500 in labor and materials, as well as $500 in overhead, might lead to a bid of $3,250 — which covers a five percent profit margin on top of the $3,000 it actually costs to do the job.
6 tips to boost profit & reduce overhead
Your company's vision should be one of growth. Aside from taking on bigger projects or a higher volume, growth comes from increasing your profits. The following are some tips for boosting your profit margin and reducing your overhead — which can increase your overall profitability.
1. Increase your profit margin
One obvious way to make more money is to identify your profit margin and increase it. If your business has been making eight or nine percent profit on its jobs, consider increasing your prospective profit margin by one or two percent.
However, it's not a good idea to jack your prices up on your existing customers overnight. Give them notice that you're bringing your company's profit margin up to par with the rest of the industry and slowly increase it over the next six months or so. For new customers, the new rate is the new rate.
Free e-book
The Keys to Success in Commercial Construction
Learn the financial strategies and business practices that lead to positive cash flow and long-term growth.
2. Find out what costs you're missing
If your desired profit margin has always been 10 percent — or any number for that matter — but you consistently fall below that margin, there must be a reason.
First, have a good look at your bids and job costs. Do they jive, or have your estimates been totally off the mark? Then, take a look at how you're building your markup.
How much of it is overhead? What does that overhead consist of? Are you including all of your indirect costs, or have you let a few slip by undetected? Your missing percentage probably lies somewhere in your bidding process.
3. Use construction management software
If you want to cut overhead, consider streamlining and automating the areas of your business that make sense. By relying on construction management software, you'll be able to create more efficient processes for your accounts payable and receivable, as well as reduce the strain on office staff.
Also, by moving to a construction-specific software program, you'll have access to drawing storage, compliance management, automated workflows, and other time-saving benefits to reduce the hours spent by office staff doing menial tasks. Your personnel can then focus on more important tasks, leaving the repetitive data entry to the software and more money in the company's account.
4. Establish an accounts receivable policy
Before you can improve your profit margin, you need to protect the one you have. Establishing an accounts receivable policy will lay the groundwork for recovering as much of the profit as possible.
Here are some of the most important questions to answer:
Will you send preliminary notices on your jobs?

Will you offer early payment discounts? If so, how much and by when?

When will you send a payment reminder? What about a notice of intent to lien?

Will you use a collection agency?

Are your policies protecting your right to file a mechanics lien in your state?
5. Pay attention to your accounts payable
Be sure to focus some time on improving your accounts payable, as well. If you aren't paying your materials suppliers or subcontractors on time, their late fees might be eating into your profit.
Moving to automated software (like the construction software mentioned above) will be a huge boost. Subs and suppliers will be able to submit pay apps online, allowing you to get them turned around faster to avoid payment delays and the subsequent issues they cause.
Also, contact your subs and suppliers and ask if there is a discount for paying your bill early. If they're bidding correctly, they're accounting for interest in their bids. If you pay them early, they should be able to save on interest and transfer the savings to you, as well. This lessens your overhead and grows your profit margin by default.
6. Watch out for high-interest credit agreements
The interest you pay to credit card companies and materials suppliers could be affecting your profit margin. If you aren't accounting for these rates, or the job takes much longer than expected, the money you're paying to borrow cash adds up in a hurry.
There are a few things you can do here. One, shop for a credit card with an 0% introductory rate. Next, you can call your credit card company and request they lower the interest rate. Finally, find a materials financing partner to help you purchase materials with a lower interest rate than the rates offered by credit card companies.
Planning is key for balanced contractor overhead and profit
When you're putting together your next bids, realize that the money that goes to overhead and the money left over shouldn't be an accident. Get a handle on how you calculate overhead as well as how much profit your business plans to make before bidding.
Also, do what you can to protect your profit margin and reduce your overhead to keep your company profitable and ahead of your competition.
Written by
Tom Scalisi
57 articles
Tom Scalisi is a writer with over 15 years of experience in the trades. He is passionate about educating contractors and specialty contractors about the best practices in the industry. He has seen first-hand how education, communication, and preparation help construction professionals overcome challenges to build a strong career and thriving business in the industry.
View profile
Win More Work
Get discovered for relevant work on the Procore Construction Network.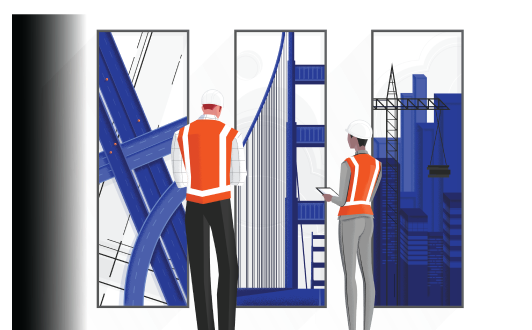 Explore more helpful resources