—  8 min read
How to Manage Construction Mobilization Costs
Last Updated Nov 16, 2023
Getting a construction project off the ground is an expensive undertaking for everyone involved. Construction mobilization costs refer to the costs needed for a job to begin. Sometimes mobilization costs can be purely administrative, and other times they can relate to the literal costs of job site preparation. By planning for mobilization costs from the beginning of a job — like in the initial schedule of values — construction businesses can clearly communicate their needs and avoid cash flow issues.
What are construction mobilization costs?
Mobilization costs are the expenses contractors incur to organize, assemble, and transport equipment and materials to a jobsite before construction work begins on a project.
Because construction businesses don't perform work in a single location — unlike traditional manufacturing — they need to prepare each jobsite as a separate worksite. This preparatory work varies for every contractor, and for every jobsite.
Types of mobilization costs
Mobilization activities can vary widely depending on the site conditions, scope of work, and the type of construction. For example, the activities required to mobilize a road construction project will be quite different from a commercial warehouse.
Everyone incurs mobilization costs at the start of work on a project. On many projects, general contractors tend to incur higher mobilization costs due to the jobsite preparation work required — installing temporary utilities, building access roads, or installing a field office, in addition to administrative costs like bonding, permitting, etc. But a specialty contractor may carry more of the burden for mobilization costs on other projects, depending on the type of project and the scope of work.
These are some of the common types of mobilization costs that contractors may incur.
Administrative mobilization
"Administrative" mobilization costs are things that take time and money but might not be tied directly to the actual performance of work. These can include expenses like:
Even back office and project planning activities such as creating the project schedule, trade sequencing, and finalizing and reviewing plans — these all require time and funds, too.
Make it easier to manage construction.
Construction-related mobilization
All of the activities described above relate to the construction industry, but there are mobilization activities that more closely relate to the actual work that will be performed.
Mobile office transportation and/or construction

Access road construction

Equipment rental & transportation

Utility installation

Material storage facilities

Transportation of jobsite prep materials

Fencing and security systems installation
Transportation, fuel, equipment rental, initial materials, and tools aren't free, and they don't happen instantaneously. Also, some site prep activities, setting up site office trailers, etc. will take place before the first progress payment rolls in.
Remobilization: Returning to the jobsite
Remobilization occurs when a construction business must undertake additional mobilization activities after initial mobilization has already taken place. In a situation where a contractor must return to the job for some reason (like poor scheduling or unanticipated delays), they might be undertaking additional costs to pick up where they left off.
In situations where a return to the jobsite is necessary, contractors may be able to negotiate a change order with the owner to recover some or all of the costs of mobilization. Of course, if a construction business must remobilize due to its own actions — such as defective work — those costs may not be recoverable.
How mobilization costs impact budgets & cash flow
Initial costs can increase significantly due to high mobilization costs for large, complex construction projects. These may include expenses such as transportation, equipment rental, and labor costs. This can result in project expenses being much higher than anticipated, putting a strain on the budget and cash flow.
Because mobilization costs are usually incurred at the beginning of a project, before any work has begun, they can have an adverse effect on cash flow. Contractors may require additional funding or financing to cover the initial mobilization costs, and revenue generation may not begin until work has started.
Unforeseen costs may occur during the project if mobilization costs are not accurately estimated. For example, if equipment is damaged during transportation to the site, or discovered to be defective after delivery, additional costs not budgeted in the initial mobilization estimate may arise.
Stay Ahead & Leave Risk Behind
Manage, baseline, and improve your quality and safety program from your desktop and mobile devices.
Best practices for managing mobilization costs
So, if there is a long list of costs at the start of the job that aren't accounted for, how can a contractor stay ahead?
Take a collaborative approach
One common way contractors attempt to deal with startup costs is to front-load the schedule of values, a practice known as overbilling. However, owners may see this as a red flag and it could lead to the rejection of a pay application — adding further strain to cash flow.
Contractors can often achieve better results at the start of a project by taking a collaborative approach and communicating transparently about the startup costs incurred. Rather than attempting to front-load the initial pay apps, a more sustainable approach may be for contractors to include mobilization costs in the schedule of values.
Evaluate jobsite needs and historical trends
During the estimating process, conducting a site visit is essential for evaluating potential issues that could affect mobilization costs. During the visit, the estimator can create an accurate list of necessary equipment and materials.
Back in the office, they can analyze historical data from previous projects to identify trends and estimate costs more accurately. Industry professionals and vendors can also be consulted to obtain a more accurate estimate of costs.
Monitor costs throughout the project
Monitoring mobilization throughout the project lifecycle is critical for several reasons. By tracking mobilization costs, project managers can detect any cost overruns early on and take corrective action to keep the project within budget.
Monitoring mobilization can also assist project managers in identifying potential delays or problems that may impact the project's timeline, allowing them to take corrective action to keep the project on schedule.
By tracking and analyzing mobilization costs for a project, project managers can determine areas where their initial estimates were inaccurate and make adjustments for future projects.
Finally, monitoring mobilization can aid in ensuring that all safety and compliance regulations are being followed, reducing the risk of accidents and legal issues.
Recovering mobilization costs
Contractors can run into problems if mobilization costs are not explicitly reimbursable in the contract. In a well-written construction contract, mobilization costs will be specified in the contract terms or in the initial schedule of values.
Mobilization fee
The simplest way to make sure that mobilization is accounted for and ultimately paid is to set the costs out in the contract explicitly. This could be accomplished with one lump sum mobilization fee or a line-item list of costs.
Itemizing mobilization costs can make it easier to justify the fee, and could help maintain or even strengthen a customer relationship. Explaining to a customer that mobilization costs are going toward actual project expenses reduces the chance they will view these charges as an arbitrary "fee."
Mobilization percentage
Contractors may also bill for mobilization costs by adding a percentage to the total job costs. Mobilization percentages are calculated as a portion of the overall contract price. Some project owners may even require contractors to include the mobilization percentage.
However, using a mobilization percentage doesn't account for the actual costs incurred in mobilizing. The rate may be increased or decreased in anticipation of the cost, but if there's a lot of room for windfall or shortfall when a straight percentage is used. By actually tying mobilization payments to specific mobilization costs, everyone gets a fair deal. Neither party has to worry that they might be getting ripped off.
Mobilization advances
Including a mobilization fee or percentage ensures that mobilization costs are accounted for, but they don't help contractors solve the cash flow timing issue. Again — these activities take place at the very start of the job, or during the planning phases. This means contractors must float these costs until the first progress payment arrives.
An easy fix might be simply to require an advance for mobilization costs. Obviously, not every customer will be thrilled about paying for things up front. But by communicating why it's important for mobilization funds to be advanced, and explaining what the advance will cover, it will be an easier pill to swallow.
Mobilization draws
Mobilization draws, like mobilization advances, help to minimize the timing issues created by mobilization costs. Unlike an advance, a mobilization draw would occur after the costs have been incurred. This would operate similarly to any other typical draw request. By enabling a draw request specifically for mobilization, the temptation to front-load payments can be lessened.
Communicating mobilization costs builds trust and helps avoid disputes
Everyone in the construction industry knows that it takes time and money to get a construction project off the ground, and the concept isn't hard to explain to project owners who might not be familiar. Further, obtaining construction payments is currently a slow process fraught with danger and the potential for further delays.
Instead of front-loading costs to survive mobilization, contractors would be wise to plan ahead. By accounting for mobilization in the initial schedule of values, and being open and honest about what costs are going into the project, it's easier to build trust and avoid disputes.
Written by
Alex Benarroche
24 articles
Alex Benarroche serves as Associate Counsel for Procore. His legal expertise includes construction, contracts, business, and intellectual property. Alex is bilingual in English and Spanish. He earned a J.D. from Loyola University College of Law and an M.S. in Intellectual Property and Internet Law from the University of Alicante in Spain. Originally from South Florida, Alex has called New Orleans home since 2003.
View profile
TJ Forbes
TJ Forbes is a Senior Solutions Engineer at Procore, specializing in financials products, analytics, ERP integrations, workflows, reporting and accounting solutions. He previously worked as a financial manager and project accountant for Stiles, a commercial real estate firm in Ft. Lauderdale. TJ holds a Masters in Financial Management from Southern Adventist University.
View profile
Win More Work
Get discovered for relevant work on the Procore Construction Network.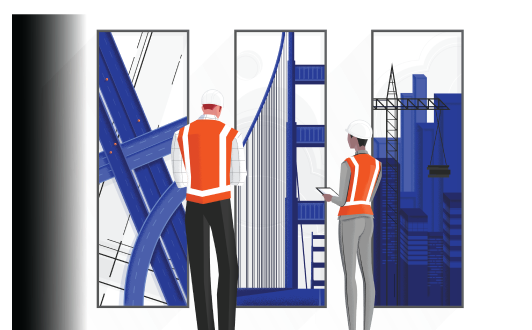 Explore more helpful resources