—  6 min read
Computer-Aided Design (CAD): What It Is — and Why It's Important
Last Updated Nov 16, 2023
When most people envision a construction worker, they see a person at a construction site wearing a hard hat and a safety vest. Perhaps this person is putting up drywall, hammering nails, laying flooring, or even having lunch high above the ground, evoking the iconic Lunch Atop a Skyscraper photograph. Although all these constitute part of the job, construction is in many ways a tech job. This has always been the case — but with the introduction of computer-aided design (CAD), technology's role in the industry and the impact it has on the job have both grown.
History of CAD
The origins of CAD trace back to the early 1960s systems of Patrick Hanratty and Ivan Sutherland. While working for General Electric, Hanratty developed a program he called DAC, the first system which used interactive graphics and a numerical control programming system.
Just two years later, in 1963, Ivan Sutherland designed a system that "broke new ground in 3D computer modeling and visual simulation, which is the basis for CAD." Sutherland called his program Sketchpad, and explained it "let designers use a light pen to create engineering drawings directly on a CRT."
In 1971, Hanratty developed a program called ADAM. It was described as the "first commercially available integrated, interactive graphics design, drafting, and manufacturing system." Approximately 9 out of 10 CAD programs find their roots in ADAM.
Hanratty upgraded ADAM over time, enabling it to run on 16-bit, and later 32-bit computers. With a name change to AD-2000 along with more machining and surfacing capabilities, the program became more and more of a success.
Purpose of CAD
Used by engineers, architects, and construction managers, CAD has replaced manual drafting in many places. It helps users create designs both 2D and 3D designs to better visualize construction.
CAD enables the development, modification, and optimization of the design process. Engineers can make more accurate representations and modify them easily to improve design quality. The software also takes into account how various materials interact: This is especially relevant as more details are added to drawings by subcontractors.
Today, drawings/plans can be stored in the cloud, Thus, contractors have gained access to CAD-based drawings/plans at the worksite. Entire teams can check out plan modifications easily, including the general contractor and subcontractors. This way, it is possible for all the relevant parties to recognize the possible impact the changes might have on construction and adapt and communicate as needed.
Effective utilization of all information can help increase productivity. CAD helps enable designers to consider electricity, plumbing, and other elements to create a more comprehensive design. Ultimately, this translates to fewer work changes and fewer surprises during construction.
Make it easier to manage construction.
CAD in practice
Eric Cylwik is a senior virtual construction engineer at Sundt Construction, a full-service general contractor that is one of the largest construction companies in the United States.
Cylwik focuses on virtual construction and has concentrated on 3D modeling for construction uses throughout his career. In his role at Sundt Construction, he supports the people in the construction business by identifying how technology can bring predictability, speed, and quality to their work. He also ensures the technology is working correctly.
Cylwik's use of CAD dates back to his college days at Arizona State University where he majored in design studies. "It was the first tool I used when setting about creating 3D sequences and animation," he said.
Today Cylwik regularly uses "a host of different CAD-related tools." With their help, he can develop accurate models of something yet to be designed. He works out ways to transfer files among key players and create a final design intent model.
"Being able to visualize something in 3D gives the design and construction team an idea of what the finished project should look like," said Cylwik.
When Cylwik was in Sundt's transportation group, he used CAD data to determine the elevations of roads, bridges, and other surfaces. The team connected CAD to equipment in the field to ensure the equipment was performing tasks according to the specs.
"Traditionally, this was labor-intensive but this [CAD] totally changes the process. It's a time-saver; it improves safety and reduces costs."
Popular CAD software options in construction
CAD Civil 3D
CAD Civil 3D is used for planning, designing, and managing civil engineering projects. The projects can be divided into "three main categories of land development, water, and transportation projects; and can include construction area development, road engineering, river development, port construction, canals, dams, embankments, and many others. … [It's] used to create three-dimensional (3D) models of land, water, or transportation features while maintaining dynamic relationships to source data such as grading objects, breaklines, contours, and corridors."
CAD Plant 3D
CAD Plant 3D makes offers modern 3D design solutions for plant designers and engineers. The program helps simplify the modeling of plant components, including piping and support structures. The software offers a number of tools to deal with typical plant and process design challenges, such as the standardization and customization of parts for a particular project. It also improves accuracy as well as increases design and engineering productivity as typical challenges are addressed when building the model.
CATIA
CATIA is a cloud-based design software used for physical modeling and is utilized in many industries. In construction, it facilitates the design of buildings. The software is also seen as a top-notch surfacing (developing the shape of an object) tool. What's more, CATIA supports multiple stages of product design and aids in the design of various systems, such as electronic HVAC.
Stay Ahead & Leave Risk Behind
Manage, baseline, and improve your quality and safety program from your desktop and mobile devices.
SkyCiv Structural 3D
SkyCiv Structural 3D is a cloud-based structural engineering software program geared toward civil and structural engineers. Completely online, the program enables users to model, analyze, and design a wide range of structures. Engineers can analyze multiple issues like bending, stress, and buckling. With smart repair model functionality, the program helps users identify and repair issues.
SolidWorks Premium
A program that runs on Microsoft Windows, SolidWorks Premium has powerful 3D design capabilities. While it can be used to create 2D designs, the 3D-related tools are what make it so valuable for mechanical engineers and designers. SolidWorks "integrates powerful design tools — including industry-leading part, assembly, and drawing capabilities with built-in simulation, rendering, animation, product data management, and cost estimation." The program allows users to create a 3D model from a 2D plane, and vice versa.
Written by
Larry Bernstein
Larry Bernstein is a freelance writer that specializes in construction and technology. He has written for Dodge Data & Analytics, Trimble, ENR, Bluebeam, and more. He holds a bachelor's degree in economics from Penn State University, a master's in secondary education from Brooklyn College, and a master's in creative writing and literature from Long Island University. He lives in New York.
View profile
Win More Work
Get discovered for relevant work on the Procore Construction Network.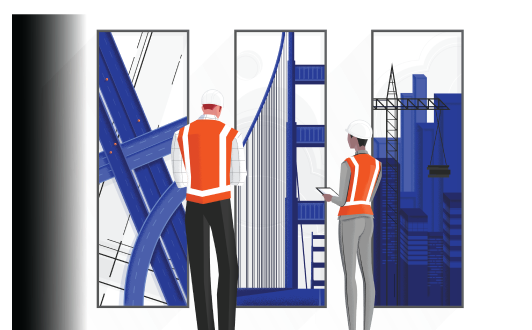 Explore more helpful resources